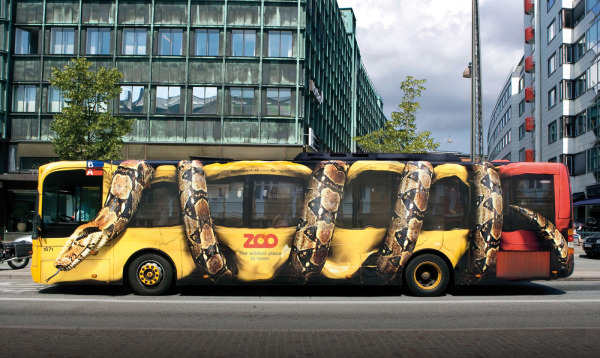 Many businesses are taking advantage of the cost-effectiveness of vehicle wrap advertising, including industries that you wouldn't think would use vehicle wraps, for example a zoo.
People visit zoos every year, but just like other businesses the zoo industry is looking for unconventional advertising techniques such as vehicle wraps to boost sales and customers.
In the above vehicle wrap, there's a giant constrictor snake squeezing the Copenhagen city bus. This vehicle wrap provokes viewers to think of one thing zoos are known for, giant snakes. What better way to increase visitors than advertising something they are dying to see that your business offers!
Vehicle wraps continue to be the most affordable type of outdoor advertising. They get the most amount of views from potential customers for every dollar spent. Even when you are out of town or in traffic your brand continues to be advertised.
RolArt is able to produce vehicle wraps similar to the Copenhagen Snake Bus for businesses around Texas. Be sure to contact us for your next advertising campaign, for less money than conventional advertising cost you can reach your customers where they have no choice but to see you– on the road or in a parking lot!
If you are planning to have one, our first recommendation is that as much as possible the work should be done by a car vinyl wrap specialist because this practice needs expertise and experience.
Call RolArt today for your entire car wrap needs in Irving, Texas. We are the #1 car wrap company in Irving, Texas with years of experience at our hands. Call us 1-972-590-659.